Call of Cthulhu Quickstart Rules
A downloadable Tabletop RPG
Horror Roleplaying in the Worlds of H.P. Lovecraft
The Great Old Ones ruled the earth aeons before the rise of humankind. Originally they came from the gulfs of space and were cast down by even greater beings. Remains of their cyclopean cities and forbidden knowledge can still be found on remote islands in the Pacific, buried amid the shifting sands of vast deserts, and in the frigid recesses of the polar extremes. Now they sleep — some deep within the enveloping earth and others beneath the eternal sea, in the drowned city of R'lyeh, preserved in the waters by the spells of mighty Cthulhu. When the stars are right they will rise, and once again walk this Earth.
Welcome to Chaosium's Call of Cthulhu 7th Edition Quick-Start Rules, a booklet that collects the essential rules for Call of Cthulhu 7th Edition and presents them in abbreviated form.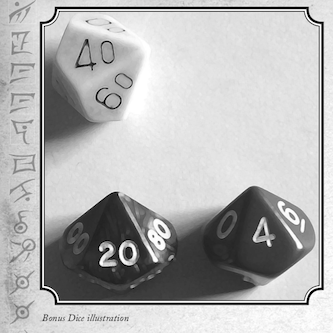 The Call of Cthulhu Quick-Start Rules guide you through the process of creating investigator characters, who delve into strange mysteries and confront alien monsters and other creepies! It also includes an overview of the game and its basic rules, a character sheet, and a ready to play adventure - The Haunting - to get you started.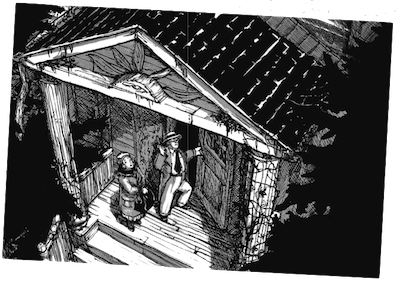 Download a copy, print it out, gather your friends, and then play Call of Cthulhu for the first time. Odds are good you'll want to play again and again. You may also want to download the special solo introductory adventure - Alone Against the Flames - which guides you through the rules as you play through a mystery - something you can play on your own while waiting for your gaming group to arrive!
Authors: Sandy Petersen, Mike Mason, Paul Fricker and Lynn Willis
Art: Alberto Bontempi, Rachel Kahn
Editorial: Scott Dorward
Critical Acclaim for the Call of Cthulhu Quickstart Rules
"Call of Cthulhu is, for me, the best RPG ever created irrespective of genre. Yet I do recognise that its approach to heroism is not for everyone. Buying an enormous rulebook without being certain of whether one likes it or not might not be as prudent, so here's the answer. Eleven pages of rules, which can be clearly understood in under an hour…"— Antonios S. Review, RPGNet.
"There's a reason why [Sandy Petersen's scenario 'The Haunting', included in the Call of Cthulhu Quickstart] has been in print constantly for nearly 30 years and has been a rite of passage for nearly every Keeper in that time"—Seth Skorkowsky (video review).
"Call of Cthulhu is one of the greatest of its kind… the Quickstart Guide is a great introduction to the game."—Geeks A Gogo
2014 SILVER ENNIE WINNER FOR BEST FREE PRODUCT
Get your copy today!
Download for free here!
The Call of Cthulhu Quick-Start Rules is also available from Chaosium.com as free download, and in print in Softcover and POD versions, and from DriveThruRPG.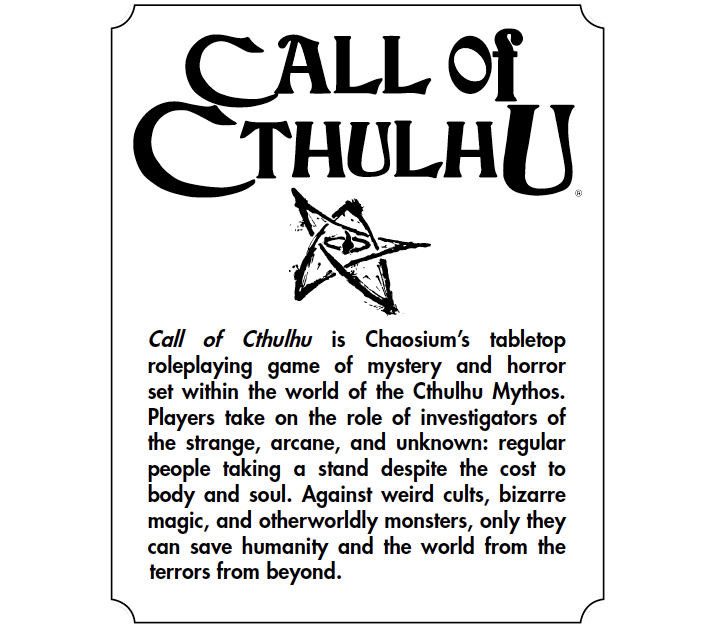 Call of Cthulhu, Chaosium Inc., and the Chaosium logo are registered trademarks of Chaosium Inc. Call of Cthulhu © 1981–2020 Chaosium Inc. Chaosium Arcane Symbol (the Star Elder Sign) © 1983 Chaosium Inc. Chaosium Yellow Sign © 1989 Chaosium Inc. All rights reserved.
Download